The Total Curve® Formulation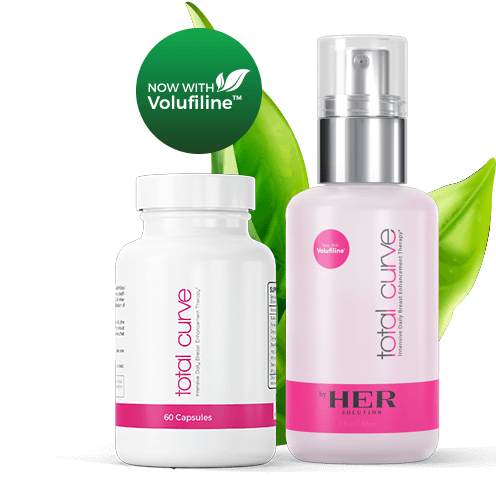 Both the Total Curve® Daily Supplement and Lifting and Firming Gel have been formulated using the latest medical research in natural breast enhancement.
Now you can enjoy fuller, firmer feeling breasts with a more lifted appearance. But it doesn't stop there.
You will also experience a wide array of other health benefits that may include fewer symptoms of PMS and menopause, increased sex drive, reduced vaginal dryness, and much more.
Here's an In-Depth Look at Each Formulation
Total Curve® Daily Supplement
The overall size and fullness of your breasts are impacted by the presence and ongoing shift of hormones like estrogen.
The foundation of the Total Curve System is a Daily Supplement that contains a series of natural, safe phytoestrogens. They naturally mimic the action of estrogen to further firm and lift your breast tissues.
We've formulated the Total Curve Daily Supplement to contain a variety of herbals, nutrients, antioxidants and hormone balancers. They naturally promote overall breast health while reducing the symptoms of PMS, menopause, diminished sex drive, vaginal dryness, and much more.
Total Curve® Lifting and Firming Gel
Apply the Total Curve Lifting and Firming Gel to your breasts every day. Over the next 60 days watch as it begins delivering its vital cell-plumping action directly to your breast tissues.
The secret ingredient is Volufiline, which has been clinically proven to increase breast size by up to 8.4% in less than 60 days.
Plus, in order to facilitate the absorption of Volufiline™ into the breast tissue, the Lifting and Firming Gel has also been formulated to include a selection of gentle, natural skincare botanicals that help even skin tone, moisturize, and strengthen collagen.
Apply a thin layer of the Lifting and Firming Gel to each breast twice daily and massage gently until it's fully absorbed.
Other Ingredients: Purified water, propylene glycol, carbomer, triethanolamine, vegetable glycerin, hydroxyethylcellulose, methylparaben, STR multi-peptide complex, natural and artificial flavors and preservatives.