Let's Take a Critical Look at Your Options for Breast Enhancement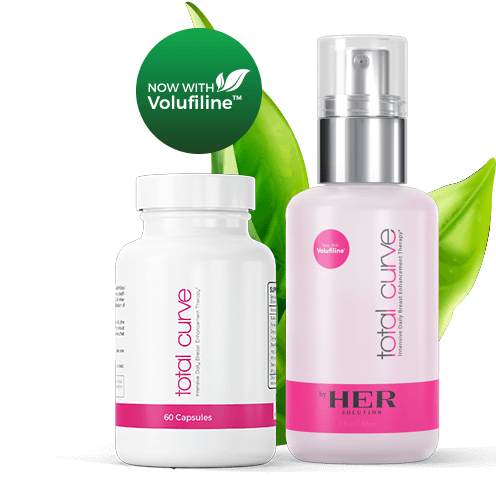 When it comes to breast enhancement, there are a number of options available to you.
They're not all created equal, though, so it's important to carefully consider each option before you decide.
Even worse, you could experience painful side effects or complications leading to long-term health problems. And, in the worst-case scenario, you could end up with permanently disfigured breasts.
That's not to mention the shockingly steep bills that can take years to pay off.
Let's Closely Examine the Most Popular Options Available to You
---
The Two-Step Daily Breast
Enhancement Therapy System
Here at Total Curve®, we believe that all women deserve to feel confident and sexy with more youthful-looking and feeling breasts without putting their health and lives at risk with extreme and expensive surgeries.
Total Curve is a comprehensive breast rejuvenation system that works in unison to improve your overall breast health and appearance from the inside out.
Simply use the Total Curve System daily and over the next 60 days watch as it begins delivering vital cell-plumping action directly to your breast tissues. The results are possible with:
Volufiline™, which we include in the Lifting and Firming Gel has been proven in both clinical studies and a human trial to increase breast size by up to 8.4% in less than 60 days.
Add to that the natural phytoestrogens in the Daily Supplement that safely mimic estrogen. They naturally produce a mastogenic effect, similar to the breast swelling many women experience during pregnancy or the week leading up to their menstrual cycle.
100% Satisfaction
Guarantee
Please try our products for 67 days and if for any reason you are not completely satisfied simply return the unused portion in the original container within 67 days of receiving your order (60 days + one week return shipping), and we will refund you 100% of the product purchase price, excluding shipping & handling.